The Rage Hurricane (R140T) together with the Rage Phazer is one of the newest additions to the RAGE Motorsport line up. The Rage Nytro has been designed arround the well established two seater chassis that the R180T and R180RT have been using for the past 18 months.
This vehicle has a secret that is beholden only to a select few who have ever driven a Yamaha performance snowmobile. It is an incredible vehicle that is capable of operating on a variety of surfaces, ranging from tarmac race track to full motocross.
It is powered using the engine from the latest Nytro FX snowmobile.
The Rage Nytro comes in motocross stance as standard, and can then be converted to Supermoto within 15mins using the Supermoto kit (optional extra), comprising of tarmac tyres, alloy wheels and shorter shock absorber springs.
The 1049cc engine gives incredible performance and will launch from 0-60mph in under 4 seconds and on to a top speed of 120+mph.
The vehicle is fitted with a Continuously variable transmission (CVT) which for the drivers that must have an automatic, this is the vehicle that is going to blow their socks off. The Rage Nytro is also fitted with reverse.
£POA Click to email Rage

Click on the video below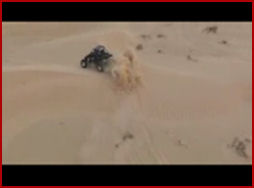 Engine
Yamaha FX Nytro 1000cc 4 Stroke 12V 3 cylinder 140hp Automatic (CVT continuously variable transmission)
Fuel tank
Foam Filled Aluminium Tank
(Capacity 30 Litres)
Transmission
Quaife Forward & Reverse Gearbox
with A.T.B Differential
Gearbox
CVT (Continously variable transmission)

Chassis
Powder Coated 1.5" Cds Tubular Space Frame. Tested beyond FIA standards
Floor Pan
Aluminium 5-bar Plate
Wheels
6 Spoke Aluminium Rim, 7 x 14
Tyres
Front - Off Road 26"x 9"x14"
Rear - Off Road 26"x10"x14"
Shocks Absorbers
RAGE Adjustable Intrax Gas Charged
Dampers with Spherical Bearings
Weight
425 kg (Dry)
Suspension
Front - Double Wishbone with 12.5"travel
Rear - Double Wishbone with 13.5" travel
Steering
Aluminium Rack & Pinion,
1.7 Turns Lock to Lock
Brakes
Stainless Steel Cross Drilled Discs all round with Brembo Calipers and Bias adjustment
Seats
Diolen Race Seat (Adjustable)
Harnesses
FIA approved 5-point Pro
Safety
Front & Rear Bumpers
Cooling
Aluminium Race Radiator with Thermostatically Controlled Twin Fans
Exhaust
Full Stainless Steel
Race Exhaust System
Dimensions
Length - 2750mm
Width - 1780mm
Height - 1370mm
The vehicle shown below is with optional extras. Please check with us for the base vehicles and optional extras.